1993 was another season when techincal advances were slow, meaning that Benetton did not have traction control unitl mid-season, again gifting the championship to a Williams driver. However, 1994 was the year. The Beneton B194 was the top chassis, aerodynamically and Ford had a good engine in the Zetec-R V8. Schumacher won the first two races and, when Senna was killed at Imola he was left as F1's top-gun.

After suffering a two race ban for ignoring a Black Flag at Silverstone, and a disqualification on a technicality at Spa, Schumacher went to Adelaide only one point ahead of Damon Hill. The title was decided on less than satisfactory grounds when the pair crashed after Schuamcher hit a wall, terminally damaging his car.

Schumacher and Benetton topped this in 1995 winning nine Grand prix, and both championships, despite him and Hill crashing into each other twice more.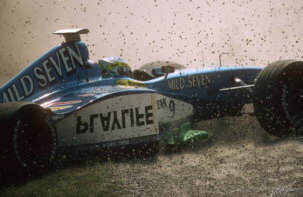 Growing Misfortunes
Jean Alesi and Gerhard Berger failed to win a race in 1996 after the departure of Schuamcher and Herbert, and Briatore was furious with Alesi for crashing at the final race to lose second place in the Constructor's Cup to Ferrari.
Berger took a single win in Germany in 1997 but the old guard were replaced in 1998 by Giancarlo Fisichella and Alexander Wurz with former rally team boss David Richards at the helm.
In 1999 the same two drivers struggled with a poor handling car all season and were only competing at the level of Sauber instead of the top four as they used to be. They finished a dissapointing sixth in the Constrctor's Championship. The team hope for better results in 2000 with a brand new chassis but the same two drivers.